Q-Lab recently attended the European Coatings Show in Nuremburg, Germany. Our extensive line of weathering and corrosion testers were on full display, including the reimagined QCT Condensation Tester – a new look for The Original Cleveland CabinetTM.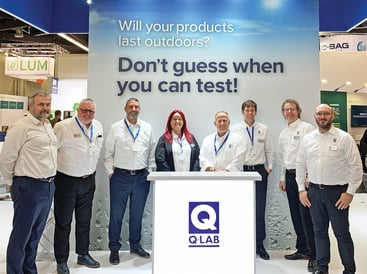 The Q-Lab team and our Representatives met with many customers from across Europe and elsewhere, making sure to answer all of their weathering and corrosion testing questions. We had a real international team, with Q-Lab personnel on hand from the USA, UK, and Germany. Marketing Director Andy Francis attended the ECS Conference, presenting interesting new results on High-irradiance laboratory weathering testing of coatings.
Missed us at the European Coatings Show? Don't worry. Our team is always here to answer your weathering and corrosion testing questions. Contact our team today at Q-Lab.com/Contact-Us.