Q-Lab recently attended the ITMA (International Textile Machinery Association) exhibition in Milan, Italy. This event marked the first post-pandemic gathering for the international textile community.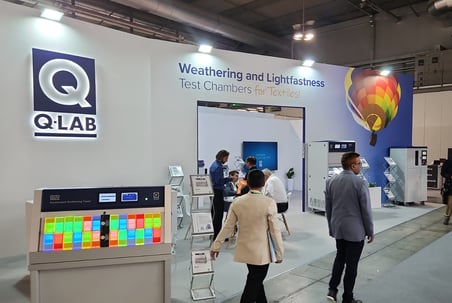 Q-Lab personnel from the USA, UK, and Germany were onsite speaking to visitors from around the globe. The team showcased our robust line of xenon testing chambers including the Q-SUN Xe-2, a model specifically designed for optimal textile weathering and lightfastness testing. Along with our xenon chambers, visitors were also able to see and interact with the world's most widely used weathering tester, the QUV.
Missed us at ITMA? No worries! Our team is always here to answer your weathering and corrosion testing questions. Contact our team today at Q-Lab.com/Contact-Us.