Q-Lab will be exhibiting at the world's largest corrosion and coatings conference, AMPP, in Denver, Colorado on March 19-March 23. Our team will be showcasing our line of industry-leading Q-FOG cyclic corrosion test chambers along with QUV and Q-SUN accelerated weathering testers.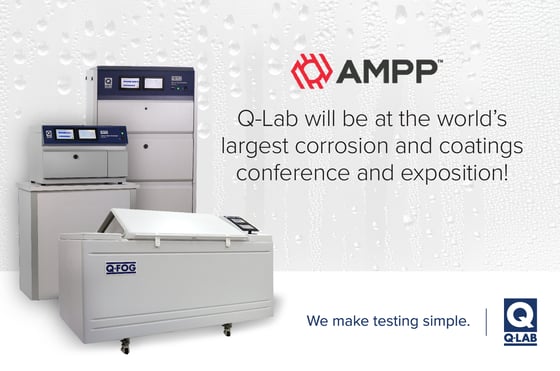 Senior Technical Director Sean Fowler will be in attendance, chairing the symposium "New Organic Coating Technologies for Reduced Environmental Impact and Enhanced Protection" on March 23, starting at 8 a.m. Sean will also be presenting original research from the Q-Lab team, titled "Weathering of Industrial Coatings: Correlation Between Three Years Outdoor Florida Exposure and Four Accelerated Weathering Methods". This presentation is centered around a study dating back to 2019 in support of the development of SSPC Paint 47, a specification for fluoropolymer-based, "highly weatherable" topcoats.
Be sure to stop by booth 409!