The Q-TRAC natural sunlight concentrator is a fast, powerful way to conduct accelerated lightfastness and weathering testing using actual sunlight instead of artificial sources. The Q TRAC system is useful for testing a range of products including coatings, plastics and reinforced plastics, automotive materials, building materials, textiles, inks, sealants, fluoropolymers, and geosynthetics. The geometry of the Q TRAC leads to these guidelines on optimal specimen sizing:
A length no greater than 5.5"
Uniform thickness, preferably ½" but no thicker than 1"
Any of Q-Lab's -35 panels are ideally-sized for this test application.
Specimen length
Q-TRAC testing is purchased by how much length along the target board is used. The maximum specimen length that fits within the target board width (top to bottom on Fig. 1) is 5.5" (14 cm). Any specimen with a length greater than that must be oriented with that long dimension along the length of the target board, which decreases the cost-effectiveness of Q-TRAC testing.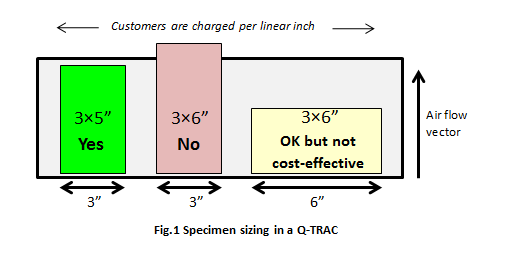 Specimen thickness
Q-TRAC customers also benefit from providing specimens with uniform thickness. Samples are cooled in a Q-TRAC by an air duct and an air deflector that is adjusted to provide proper air flow across the specimen faces. Specimens having uniform thickness, preferably up to ½" (1.27 cm) will receive maximum cooling (Fig. 2, left). Specimens with thickness greater than 1" (2.54 cm) or with variable thickness will receive inadequate cooling (Fig. 2, center and right).